PJ High Frequency Surge Testers
"MOST" MODELS

Bench & Portable

Surge, Hi-Pot & 3 Phase Testing
all in one

MODEL
NUMBER
APPROX.
WEIGHT
DIMENSIONS
L" x W" x H"
POWER INPUT
(Volt Amps)
PEAK SURGE &
HI-POT VOLTAGE
PEAK CURRENT OUTPUT
M6
66 lbs
18.5"x19"x10.7"
360 VA
6,000 V
150 amps
M10
67 lbs
18.5"x19"x10.7"
720 VA
10,000 V
300 amps
M12
68 lbs
18.5"x19"x10.7"
840 VA
12,000 V
375 amps
M15
69 lbs
18.5"x19"x10.7
1080 VA
15,000 V
500 amps
MB6
67 lbs
18.5"x19"x14"
360 VA
6,000 V
150 amps
MB10
69 lbs
18.5"x19"x14"
720 VA
10,000 V
300 amps
MB12
71 lbs
18.5"x19"x14"
840 VA
12,000 V
375 amps
MB15
73 lbs
18.5"x19"x14"
1080 VA
15,000 V
500 amps
DC HI-POT SPECIFICATIONS

MODEL
NUMBER
MAXIMUM
OUTPUT
VOLTAGE
MAXIMUM
OUTPUT
CURRENT
HI-POT
OVERCURRENT
TRIP
CURRENT
RESOLUTION
M6, MB6
6 KV
2000 µ amps
2000 µ amps
0.1 / 1 micro amps
M10, MB10
10 KV
2000 µ amps
2000 µ amps
0.1 / 1 micro amps
M12, MB12
12 KV
2000 µ amps
2000 µ amps
0.1 / 1 micro amps
M15, MB15
15 KV
2000 µ amps
2000 µ amps
0.1 / 1 micro amps
Multi-Operational Surge Tester (MOST)
We paid close attention to you, the customer, and enhanced our one of a kind tester to give you the MOST.
The "MOST" is a High Frequency Surge Tester that has all of these features:
Digital storage, programmable color oscilloscope with USB Interface Ports, USB Flash Drive for unlimited storage capabilities, PC Communications Software plus multi-language user interface
3 Phase Test Selector Switch for 3 Phase Motors with or without Rotors
Capable of Testing Fully Assembled Motors without rotating the Rotor... a unique feature that only PJ offers
Surge Testing - Direct Voltage Read Out on LED Meter
DC Hi-Pot Testing with dual LED Panel Meters that display direct read out of Current & Voltage, with overcurrent safety trip
Ascertain Polarization Index (PI) test results
Multi position carrying / tilt handle (M Model)
Rear plastic snap-on cover for cable storage & transportation (M Model)
Models M and MB: 6, 10, 12, 15 KV Surge/DC Hi-Pot output
P J Electronics wants you to get the MOST for your testing needs
for several $1,000 dollars less than impulse testers with less features!

These Multi-Operational Surge Tester Models test up to 15 KV...perfect for your preventive, predictive maintenance program and for testing in the shop or in the field.

Only P J Electronics offers the most versatile High Frequency Surge Tester manufactured to date. Not only do we accurately generate voltage to any type of load and can provide verification of our voltage, but we also maintain the Quality, Performance and Rise Time that you have come to expect from all PJ Surge Testers.

Click here to see what accessories are available to further enhance your PJ Tester.

PJ Electronics also offers a "MOST" Console Tester!


Choose from 10KV to 30KV output range. Click here to read about the "M.O.S.T." consoles.
---
All Multi-Operational Surge Testers (MOST) have the following DC Hi-Pot Specs: a maximum output current of 2,000 micro amps, a Hi-pot overcurrent trip of 2,000 micro amps and a current resolution of 0.1 / 1 micro amps.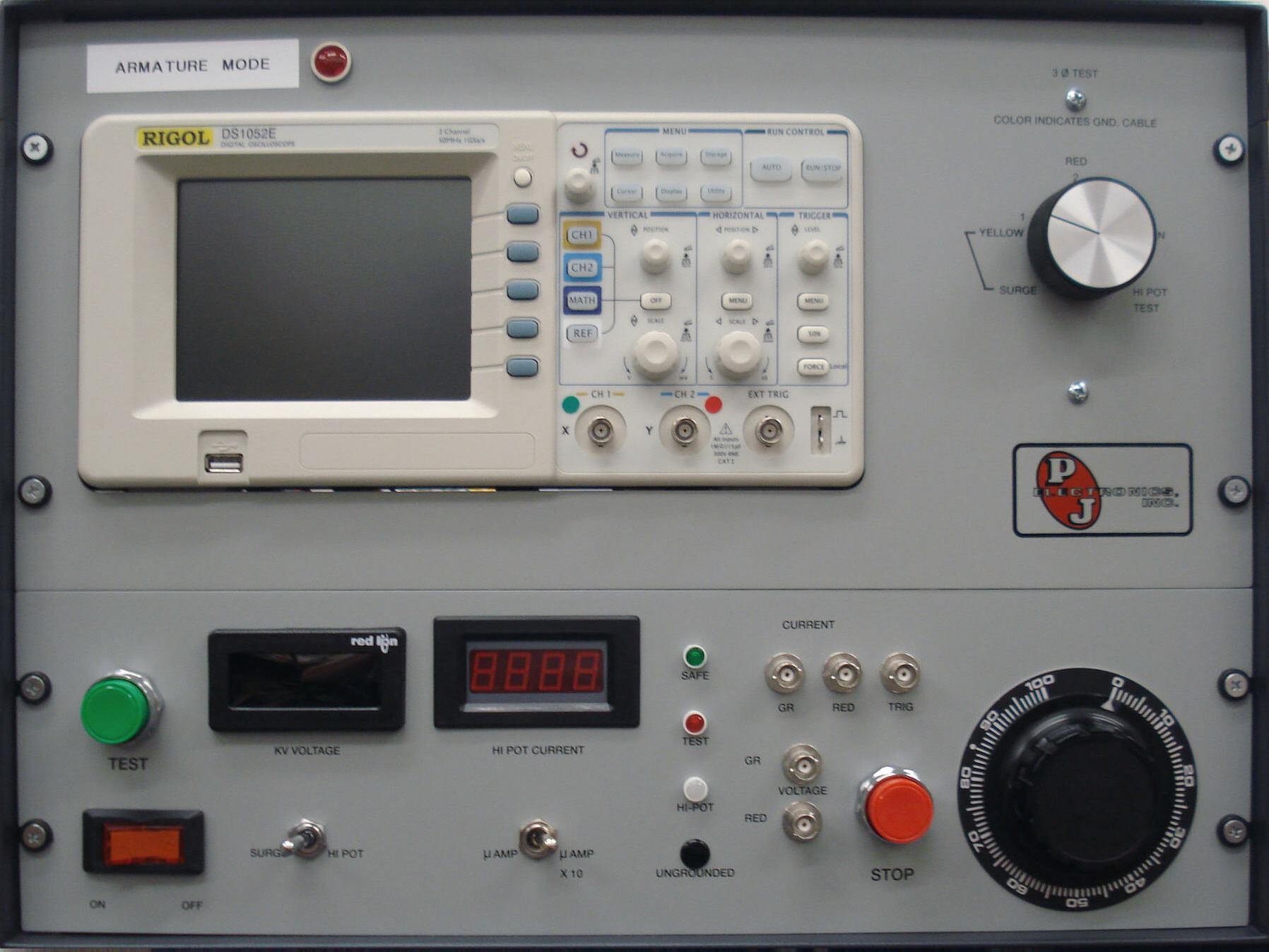 The "MOST" is available in a Console model (see Console page), a Bench Model or a Portable model.

The Bench (MB Model) is the all-in-one versatile tester that you need for all of your electrical insulation testing. The Hi-Pot tester has separate L.E.D. panel meters for direct readout (voltage and leakage current) so that no interpolation on the scope's display is ever needed. This MOST can surge test extremely low inductance windings, DC armatures, etc. The built-in 3 phase test selector switch allows you to surge test all types of multi-phase motors and gives you the confidence that each phase was effectively stressed with PJ's exclusive High Frequency Technology. Print out your waveform results within seconds* or download data to your PC / laptop utilizing the USB device port or store it directly on the USB Flash drive. Note: This Bench "MB" model is now manufactured with a high voltage rotary switch to permit the tester to operate as either a low inductance Armature Tester or a standard Surge Tester.*optional printer needed. (MB Model is shown on right).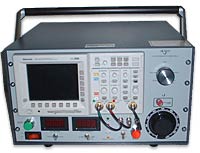 The Portable (M Model) is the ultimate "MOST". It is built in a compact cabinet that contains a multi-position carrying/tilt handle and a rear plastic snap-on cover for cable storage and transportation in the shop or field. The "M" is the perfect choice for your complete preventive/predictive maintenance testing - DC Hi-Pot testing, handheld resistance meter* testing and the capability of testing fully assembled grounded motors without rotating the rotor position. With PJ's High Frequency Technology, the entire windings of each phase can be surge tested to detect weak and damaged insulation, all with the convenience of a 3 Phase Transfer Switch. View your results on the digital storage oscilloscope and then print out your waveforms within seconds** or download data to your PC / laptop utilizing the USB device port or store it directly on the USB Flash drive. (**optional printer needed) This Multi-Operational Surge Tester "MOST" has no competition, when it comes to versatility, performance and price! *optional

Note: Some pictures may not show updated oscilloscopes.

For the complete list of standard features on all Models, please link to our Price List page.

Please note: When you select a language by clicking on a Flag, a separate page will open for "Google Translate". You will need to type in our Website address: www.pjelectronics.com . Be sure that "English" language is selected under the "From" drop down box and then Select your desired language under the "To" drop down box (Note: at this time you have the option to select several other Country/language choices). Now press the "Translate" button. If the language that you selected is accepted for translation, please use the translated Links on the translated homepage to view this page/link and other translated pages of our website. Please remember that Google is not a Technical website, therefore, some words may not translate correctly. We apologize if your particular Country/language is not listed or not available for translation.

HOME | WHY BUY A PJ SURGE TESTER | MODELS AVAILABLE | SPECIFICATIONS | PRICE LIST | CONTACT US | TECHNICAL SUPPORT | WHAT'S NEW

Click here for a PDF printable version of this page.
---
www.pjsurgetesters.com or www.pjelectronics.com
© PJ Electronics Inc. 1999-2013 All rights reserved worldwide
575 Davidson Road | Pittsburgh, PA 15239 USA
Phone/Fax: 001 412-793-3912
Toll Free Phone: 1-877-475-8378 (1-877-4PJ TEST)
EMAIL:sales@pjsurgetesters.com